Kate Miele, MD, MA
Thursday, August 4, 2022 (9:10am) – High Yield Updates from the CDC
Friday, August 5, 2022 (8:20am) – Update on Tuberculosis Screening and Management in Pregnancy
Kate Miele, MD MA is a Medical Officer with the Prenatal Substance Exposure Surveillance and Research Team of the Division of Birth Defects and Infant Disorders at the Centers for Disease Control and Prevention (CDC). She began her work with CDC as the ABOG/CDC Larry Gilstrap MD Fellow; in this role she worked mainly on congenital syphilis prevention and also co-authored a Clinical Expert Series on "Tuberculosis in Pregnancy" for Obstetrics & Gynecology. She is an Adjunct Instructor with the Emory University's Department of Gynecology and Obstetrics.
She completed her Obstetrics and Gynecology Residency at the University of North Carolina after earning a Doctorate of Medicine from the Johns Hopkins School of Medicine, a Post-Baccalaureate Certificate from New York University, a Masters of Arts from The New School in International Affairs, and a Bachelor of Arts from the College of William and Mary with High Honors in East Asian Studies. She has seven years of professional nonprofit experience, including working in international reproductive health with EngenderHealth, global diplomacy with One To World, environmental advocacy with Green Corps, and grassroots community organizing in Kenya and India with GROOTS International.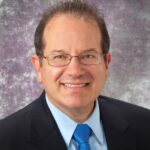 Harold Wiesenfeld, MD
Thursday, August 4, 2022 (9:25am) – What's New in the 2021 CDC STD Guidelines
Harold C. Wiesenfeld, M.D.,C.M. completed his medical degree and residency in Obstetrics and Gynecology at McGill University in Montreal, Canada.  After pursuing fellowship training in Reproductive Infectious Diseases under Dr. Richard Sweet, he joined the faculty at the University of Pittsburgh and is currently a Professor of Obstetrics, Gynecology and Reproductive Sciences and Vice Chair of Gynecology.  Dr. Wiesenfeld is the Director of the Division of Reproductive Infectious Diseases and Immunology at the University of Pittsburgh, and also holds a secondary appointment in the Department of Medicine.  In addition, he is the Medical Director of the Sexually Transmitted Diseases/ HIV Program at the Allegheny County Health Department in Pittsburgh.
Dr. Wiesenfeld's research centers on the study of infectious diseases in women and their impact on reproductive health.  His research activities have focused on pelvic inflammatory disease (PID), exploring the epidemiology, microbiologic etiology, treatment and fertility impact of acute and subclinical PID. Dr. Wiesenfeld is investigating novel approaches to improve STD screening in women, including the routinization of screening in primary care settings throughout Western Pennsylvania. Dr. Wiesenfeld is proud to be celebrating his 30th year as a member of IDSOG.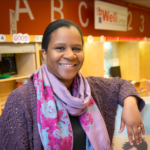 Renee Boynton-Jarrett, MD, ScD
Friday, August 5, 2022 (9:30am) –  Social Determinants of Health in Reproductive Infectious Diseases
Renée Boynton-Jarrett, a pediatrician and social epidemiologist, is an associate professor at Boston Medical Center and Boston University School of Medicine. She is the founding director of the Vital Village Networks. Vital Village uses a trauma-informed lens to improve community capacity to promote child wellbeing and advance equity through dedicated collaborative partnerships, research, data-sharing, and community leadership development in Boston and nationally through the NOW Forum and CRADLE Lab. Her scholarship has focused on early-life adversities as life course social determinants of health. She has a specific concentration on psychosocial stress and neuroendocrine and reproductive health outcomes, including obesity, puberty, and fertility. She is nationally recognized for work on the intersection of community violence, intimate partner violence, and child abuse and neglect and neighborhood characteristics that influence these patterns. She has received numerous awards for teaching, clinical care, and public health including the Massachusetts Public Health Association Paul Revere Award for outstanding impact on public health. She received her AB from Princeton University, her MD from Yale School of Medicine, and ScD in Social Epidemiology from Harvard School of Public Health, and completed residency in Pediatrics at Johns Hopkins Hospital.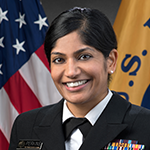 Kiran Mayl Perkins, CDC/DDID/NCEZID/DHQP
Friday, August 5, 2022 (11:25am) – Obstetric Considerations for Monkeypox Infection
CDR Kiran Perkins is an obstetrician-gynecologist and a medical officer of the U.S. Public Health Service serving as lead of the Outbreak Response Team in CDC's Division of Healthcare Quality Promotion since 2017. In this role, she coordinates local and national healthcare-associated infection outbreak response. During her time at CDC, she has led over 400 responses to outbreaks and infection control threats across all U.S. states and 9 countries. She has also led several national investigations, including the investigation of the largest U.S. outbreak of bacterial infections due to contaminated stem cell products. While at CDC she has worked on agency-wide emergency response efforts including the Ebola and Zika outbreaks and the COVID-19 pandemic.
CDR Perkins completed an undergraduate degree in Human Development at Cornell University, medical degree at the State University of New York at Buffalo School of Medicine and Biomedical Sciences, and MPH in Women's and Reproductive Health at Johns Hopkins University Bloomberg School of Public Health. Her residency training was completed at Magee Womens Hospital, University of Pittsburgh Medical Center. She completed CDC's Epidemic Intelligence Service (EIS) Applied Epidemiology fellowship in the Division of Reproductive Health, where she had the opportunity to work with the National Assisted Reproductive Technology (ART) Surveillance System to conduct epidemiologic analyses on risks and outcomes associated with ART. CDR Perkins continues to engage in obstetric and gynecologic clinical activities at Grady Memorial Hospital as adjunct faculty at Emory School of Medicine.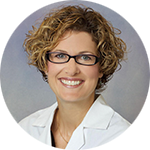 Kimberly Fortner, MD
Saturday, August 6, 2022 (9:05am) – Vaccine Hesitancy: Covid-19 and Beyond

Kim Fortner is Professor, Division Director of Maternal-Fetal Medicine, and Vice Chairman of Obstetrics Quality and Service in the Department of Obstetrics and Gynecology at the University of Tennessee Graduate School of Medicine. Her interest in maternal immunizations and infectious diseases in pregnancy developed during fellowship training as a result of the engaged mentorship she encountered at her program and also by attending and networking at the Annual Scientific Infectious Diseases Society of Obstetrics and Gynecology (IDSOG) meetings and continues to present.  Through these mentorship opportunities, Dr. Fortner has been recognized nationally as an infectious diseases expert in maternal health, serving the NIH/NIAID examining the enrollment and safety assessments of pregnant women into clinical trials of therapeutics and vaccines. Her prior published work has evaluated Influenza and Tdap vaccines during pregnancy, exploration of the barriers on vaccine and antimicrobial research through work as an investigator in Vanderbilt's Vaccine Treatment Evaluation Units (VTEU). She currently serves on the Data Safety Committee for one of Pfizer's International candidate vaccine trials. During the pandemic, Dr. Fortner has been at the forefront of promoting COVID-19 vaccination during pregnancy in our state and serves at the national level, as a member of the Society for Maternal-Fetal Medicine's COVID Taskforce.